All wheat futures prices were up on the week. CBOT soft red winter (SRW) futures rose 27 cents to close at $6.38/bu. KCBT hard red winter (HRW) futures were up 21 cents to end at $5.86/bu. MGE hard red spring (HRS) futures gained 55 cents to close at $6.54/bu. CBOT corn futures jumped 18 cents to end at $5.59/bu. CBOT soybean futures gained 1 cent to close at $14.02/bu.
Slow farmer selling supported  basis in the Pacific Northwest. Nearby Gulf basis is fairly firm but higher futures supported FOB hard red winter prices wheat followed corn future up.
Commercial Sales
This week's U.S. wheat commercial sales of 82,000 metric tons (MT) were down 67% from last week's 250,000 MT and below trade expectations of 100,000 MT to 500,000 MT. Year-to-date commercial sales for delivery in 2020/21 total 25.1 million metric tons (MMT), 1% higher than last year.  USDA expects total 2020/21 U.S. wheat exports will reach 26.8 MMT, 2% higher than last year, if realized. Net sales of new crop wheat for 2021/22 delivery were 529,000 metric tons (MT).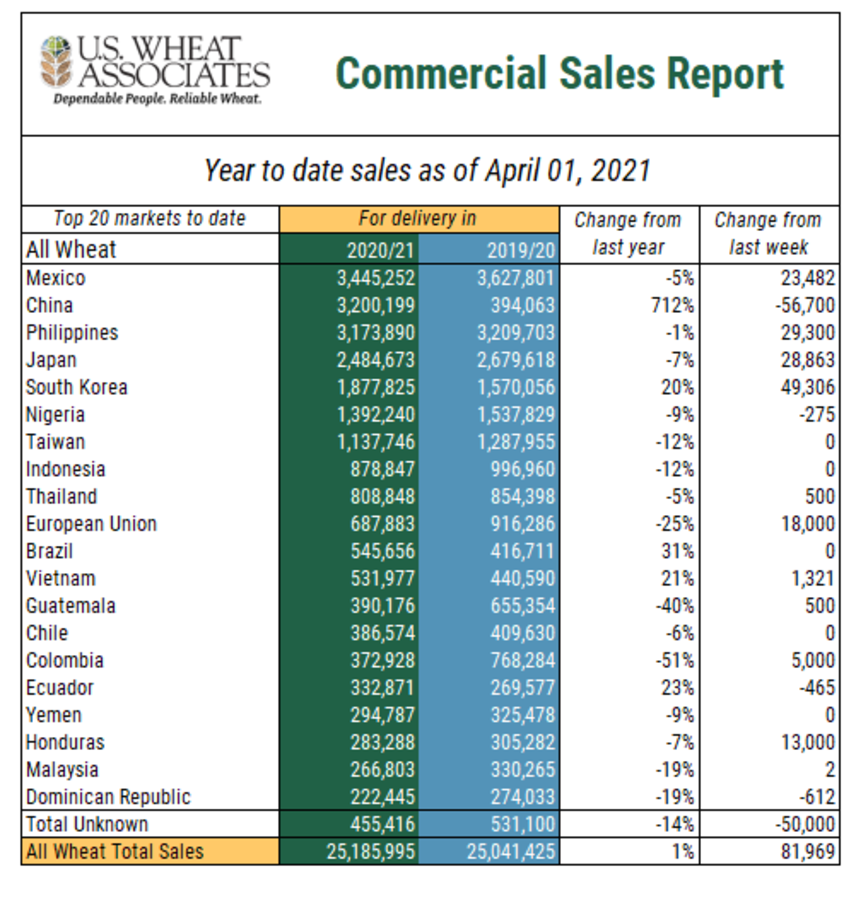 Unseasonably warm and dry weather expanded moisture deficits across wheat growing areas. Dry conditions in Texas and Oklahoma expanded as gusty winds dried out soils. Soil moisture in the Dakota's worsened as unseasonably high temperatures. Dry weather persisted across much of the west, too, with dry conditions worsening for Eastern Washington, South Central Oregon, Eastern Montana, and parts of Wyoming.
Planting of spring cereals in Russia is lagging due to persistent rain and sleet. Russian farmers had planted just 1.4%of the forecasted area by April 2, reported the agriculture ministry. Spring wheat plantings were only 0.003%of their expected area.
Winter wheat in Ukraine is 98%in good condition and scientists affiliated with the Ukrainian agrarian academy said they saw no reason to cut the 2021 wheat harvest estimated at 29.5 MMT. APK-Inform, a Ukraine based agriculture consultancy pegged Ukrainian wheat production at 27.5 MMT and wheat exports at 19.8 MMT.
FranceAgriMer estimates 87%of French soft wheat in good or excellent conditions for the week of March 29, unchanged from the previous week.
The European Commission reported that wheat exports were at their lowest volume for the marketing year for the week of April 4 at 174,833 metric tons. Total wheat exports for 2020/21 are estimated at 20.3 MMT, down 23%from last year.
Baltic and U.S. Dollar Indices
The Baltic Dry Index (BDI), an assessment of the average cost to ship raw materials such as grains, coal and iron ore, gained 1%on the week to end at 2,088.
The U.S. Dollar Index decreased from last week's 93.02 to close at 92.15.
Source: US Wheat Associates